Radiant Images Partnering with Samsung at NAB Show 2018 to Help Take Live, Immersive 360 Experiences to Next Level
Radiant and StoryTech Immersive recording and producing fully-enhanced live stream and VR viewing experience for the popular Destination NXT Theater speaking sessions
LAS VEGAS – Samsung is tapping into Radiant Images' expertise in immersive technology to take the 360 Live viewing experience to the next level for its live broadcast of the popular Destination NXT Theater – Technology Advances speaking sessions at NAB Show 2018.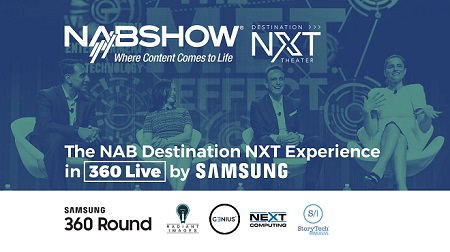 Radiant Images, in partnership with StoryTech Immersive, is recording and producing a live stream of the Destination NXT Theater and on the NAB Show floor using three Samsung 360 Round cameras and two traditional 2D cameras for a fully-enhanced 360 experience that is available live online April 9-12.
Utilizing picture-in-picture technology rendered by Voysys VR Producer and HEAR360's 8ball microphone and software for spatial audio, the interactive 360 stream gives viewers a front row seat for the speaking sessions while also giving them the ability to feel the excitement of the NAB Show or watch and listen to interviews from the floor of the Las Vegas Convention Center. Live social media feeds are further enhancing the experience.
"I'm proud to say that we have brought together some very talented and amazing partners to collaborate with us to take the 360 Live experience to the next level," said Michael Mansouri, VP at Radiant Images. "This is going to be one of the most advanced live immersive experiences ever produced. We can't wait."

The speaking sessions, set for April 9-12, are traditionally among the most sought-out events at NAB Show in Las Vegas (April 7-12), the world's largest convention encompassing The M.E.T. Effect, the convergence of media, entertainment and technology. NAB Show is where global visionaries convene to bring content to life in new and exciting ways.
The complete VR viewing experience is available in Samsung's booth N3406, where attendees have an opportunity to step behind the curtain. Much like a traditional live television production, a control room is available for attendees to witness a live and seamless production process overseen by directors, producers and technical personnel.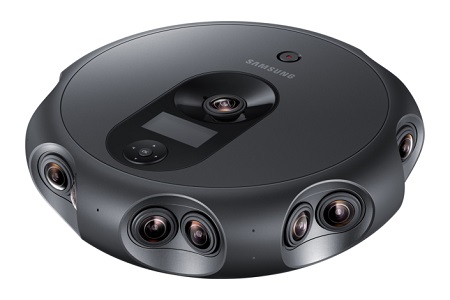 Attendees are able to see what translates from a traditional live broadcast to a 360 live and complete VR experience. Content is being streamed in-booth to Samsung's Gear VR and HMD Odyssey virtual reality headsets and will also be broadcast live online.
To watch the live stream online, click here starting Monday, April 9 thru Thursday, April 12, 9 a.m. to 6 p.m. PT.
The other project partners are Genius Marketing, who is providing a combination of 3D and 2D interviews from the exciting show floor surrounding new technologies featured during NAB; and Next Computing, who is supporting the real-time broadcast with its high-end hardware, including purpose-built live stitching and streaming systems. The LIVE 360 production is directed by Dirk Wallace and Zack Sutherland.
Radiant Images is an award-winning solution provider in 2D, 360 and everything related to immersive technology from the leading companies in the industry. Based in Los Angeles, the company collaborates with creatives in Production & Post, Co-Production and through its rental house.
Radiant's VR division is recognized as an industry leader in testing and developing immersive technology, helping filmmakers and camera operators capture 360-degree content in a compelling way. Radiant utilizes an in-house engineering team and rapid prototype capabilities, specializing in designing and building true end-to-end solutions – including new camera systems – and finding solutions that remove technical barriers for creative minds in 2D, 3D and 360/VR/AR.
For more information about Radiant Images, visit online at www.radiantimages.com. Find Radiant Images on Facebook, Instagram and Twitter.
# # #