Jaunt ONE Camera Now Available through Radiant Images Rental House
Award-winning camera and Jaunt Cloud Services to hit rental house, allowing anyone to shoot, edit and distribute high-quality, immersive cinematic VR experiences
PALO ALTO, Calif. (June 28, 2016) – Jaunt Inc., the industry leader in cinematic virtual reality (VR), today announced that the award-winning Jaunt ONE camera will be made available for public use through a pilot program with Radiant Images, a Los Angeles-based digital cinema innovator and rental house. In addition to the patented camera technology, Jaunt Cloud Services (JCS), Jaunt's cloud based stitching and rendering pipeline, will also be available to creators providing them with the only scalable, end-to-end, hardware and software solution for shooting, producing and distributing immersive cinematic VR experiences.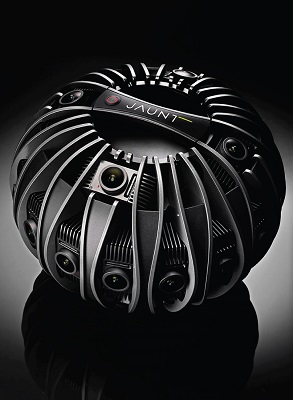 Starting in July, the Jaunt ONE camera will be available for rent via the Radiant Images website and rental house, giving everyone from rising filmmakers to established creatives and brands the opportunity to shoot with the highest quality professional-grade stereoscopic VR camera, designed with visionary VR creators in mind. The Jaunt ONE 24G model features 24 global shutter sensors, ideal for low-light and fast moving objects, and the setup can be coupled with 360° ambisonic audio recording, which in post can be mixed with Dolby ATMOS.
"Over the past 12 months we have used Jaunt ONE to film hundreds of hours of content all over the world. Jaunt ONE is a production tested camera that we are thrilled to be opening to the public through this rental program with Radiant Images," said Koji Gardiner, VP of hardware engineering at Jaunt. "Radiant is the perfect partner to enable broader access to our technology, and their expertise in the VR space makes them a great resource for filmmakers eager to explore VR as a new storytelling medium."
"The incredible Jaunt ONE camera is the perfect match for the many visionary VR creators we collaborate with who are eager to continue to push the boundaries of this new technology," said Michael Mansouri, VP and co-founder of Radiant Images. "We're honored and excited that Jaunt has entrusted us to help get this camera into the hands of talented filmmakers determined to take VR content to the next level and beyond. The power and versatility of the Jaunt ONE, together with Jaunt's seamless software and distribution solutions, is unmatched. We're thrilled to be the first rental house to have this amazing camera available to clients."

After capturing stunning omnidirectional video with Jaunt ONE, production teams can also stitch and render their footage in the cloud using JCS, Jaunt's proprietary cloud based algorithms and tools. JCS transforms footage into the highest quality stereoscopic VR experiences, ready for publishing. JCS also integrates seamlessly with most off the shelf post production tools for compositing, editing and color correction.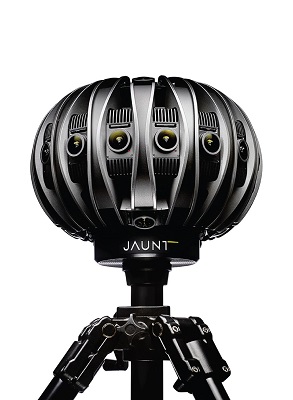 Once the experience is finalized, creators have immediate access to all of the assets necessary to publish to any platform that supports 360° video, including the Jaunt VR App. The Jaunt VR platform utilizes 'deep-links', allowing content creators to publish directly to their audiences. These unique content specific 'deep-links' give global audiences immediate access to the experience without having to search for it, regardless of the device or platform.
By utilizing Jaunt ONE, JCS and the Jaunt VR publishing platform, VR filmmakers and visionaries are equipped with everything they need to bring their stories to life while making it readily available for audiences worldwide.
For more information about the Jaunt ONE camera and Jaunt Cloud Services, please visit: https://www.jauntvr.com/technology/
About Jaunt Inc.
Jaunt is pioneering the future of creative storytelling through cinematic virtual reality. Founded in 2013, Jaunt is the leading developer of the hardware, software, tools, and applications to enable cinematic VR and put the power of virtual reality in the hands of today's best content creators. In addition, Jaunt works with leading creatives – from brands to artists to filmmakers – to create cutting-edge content through its studio arm, Jaunt Studios. Headquartered in Palo Alto, California, the company also maintains a presence in Los Angeles and produces branded and original VR content for audiences worldwide.
Jaunt's investors include The Walt Disney Company, Evolution Media Partners, China Media Capital, Highland Capital Partners, Google Ventures, Redpoint Ventures, Axel Springer, ProSiebenSat. 1 SE, The Madison Square Garden Company, Peter Gotcher, Blake Krikorian, and Sky (corporate.sky.com). Experience more at www.jauntvr.com.
About Radiant Images
Radiant Images is an award-winning digital cinema innovator and rental house providing creative solutions in 2D, 3D, VR and augmented reality, leading-edge cameras and equipment, and unrivaled client support, to the motion picture industry worldwide. Radiant's VR division also is recognized as an industry leader in testing and developing virtual reality and augmented reality technology, helping filmmakers and camera operators capture 360-degree content in a compelling way. The company utilizes an in-house engineering team and rapid prototype capabilities to provide filmmakers with the latest virtual reality tools and creative solutions.
Radiant has a dedicated VR wing inside its new facility at 2702 Media Center Drive in northeast Los Angeles. On Saturday, August 13, the company will host an informative panel and hands-on demo with representatives from Jaunt VR: http://bit.ly/28WYElN. For more information about Radiant Images, visit online at www.radiantimages.com. Find Radiant Images on Facebook, Instagram and Twitter.
# # #