VRLIVE and Radiant Images Bring NAB Show to Anyone, Anywhere with 360-degree, Cinema-Quality VR Live Stream
VRLIVE's unique, 360 stitch and distribution platform powers virtual NAB experience from Codex (SL6828) and Band Pro (C10408) booths
LAS VEGAS (April 19, 2016) – If you've ever wanted to be someplace you can't, VRLIVE and partner Radiant Images are proving this week on the NAB Show floor that now you can.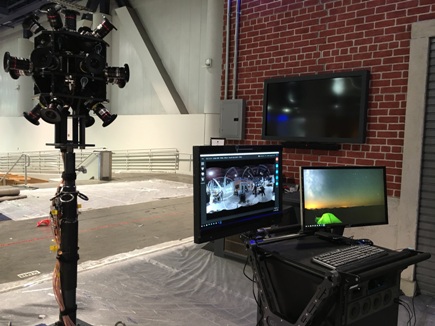 VRLIVE's unique 360-degree cinema-quality live-streaming technology is on full display in both the Codex Booth #SL6828, located in the South Hall, and the Band Pro Film & Digital Booth #C10408, directly adjacent to the Sony booth in the Central Hall. The superior quality of the camera resolution sets these 360-degree live streams apart from others at NAB and represents a significant breakthrough in this emerging technology.
Can't make it to NAB this year? No problem, anyone anywhere who downloads the VRLIVE mobile app, available in iTunes and Google Play, can attend the show virtually. Distributed via VRLIVE's network to desktop or any smart phone, anywhere in the world, the live stream are viewable as 360-degree scrollable live-video or can be experienced within a virtual reality head-mounted display.
"This is a giant leap forward," said Michael Mansouri, VP at Radiant Images. "Together with VRLIVE, we are the first to do this live 360 stitch and distribution platform. This is the future, and it will fundamentally change the way we experience travel, entertainment, live concerts and events, education and, as we're showing this week, trade shows. The possibilities are limitless."

VRLIVE, the first 360-degree network for virtual reality and 360-degree live-action content, is the leading platform for music, sports and entertainment events. By filming or recording major music events and major recording artists like U2 and Coldplay, to name a few, VRLIVE has established itself as the go-to destination for the growing global VR audience.
Partner Radiant Images is an award-winning digital cinema innovator and rental house now recognized as a leader in VR and augmented reality development and testing.
In the Codex booth (SL6828) at NAB, the VR live stream utilizes Radiant's trailblazing Headcase Codex 360 Rig, a combined 36 megapixel array of 17 Codex Action Cams. It marks the first VR 360 live stream from truly cinematic, 12-bit uncompressed RAW cameras. (This rig has been used on high-profile VR projects such as The Strain's Comic-Con VR Experience and WWE's Summerslam® Virtual Reality Experience plus several car commercials and music videos.)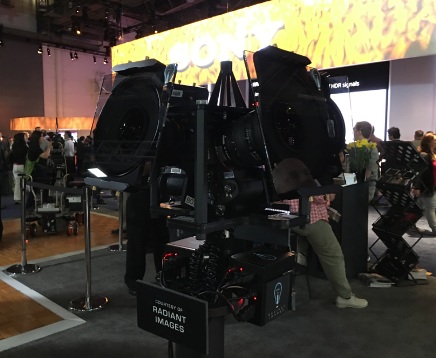 In the Band Pro booth (C10408), VRLIVE and Radiant are live streaming with the Dark Corner 360 Rig, which features four Sony A7S MKII full frame sensor cameras. Radiant developed its Dark Corner rig as the perfect VR capture device for low light environments.
In both of the booths, Radiant and VRLIVE technicians are providing demonstrations of the capture devices and as well as other custom VR power and mobility solutions.
In addition to the mobile app, the 360-degree live streams can also be viewed at www.vrlive.com, www.codexdigital.com, www.bandpro.com and www.radiantimages.com.
"We're so excited to be able to bring this new technology to the NAB floor for the first time," Mansouri said. "We are at the forefront of something truly transformative to how we all live our lives and interact with one another."
Already known for its award-winning R&D efforts in digital cinema camera technology, Radiant Images is now focused on VR development and testing to help filmmakers and camera operators capture 360-degree content in a compelling way. The company utilizes an in-house engineering team and rapid prototype capabilities to provide filmmakers with the latest virtual reality tools and creative solutions.
Radiant recently tripled in size with a move to a new facility at 2702 Media Center Drive in northeast Los Angeles. For more information about the company, visit online at www.radiantimages.com. Find Radiant Images on Facebook, Instagram andTwitter.
# # #
Top image: Headcase Codex 360 rig at NAB
Bottom image: Dark Corner 360 rig at NAB