Acclaimed Cinematographer Checco Varese Taps Radiant Images to Achieve Key Shots in 'The 33'
Camera technology innovator finds mini camera solution for 'The 33' to accurately recreate the rescuer's first video of Chilean miners trapped deep underground
In 2010, the world watched as 33 Chilean miners, trapped by a mine collapse and feared dead, were first located and then rescued from 2,300 feet under the earth's surface. The first spooky black-and-white image of a trapped miner's face, captured by a video camera fed down a tube in a narrow borehole 17 days after the cave-in, remains as one of the most memorable images from the 69-day ordeal that captivated a global TV audience.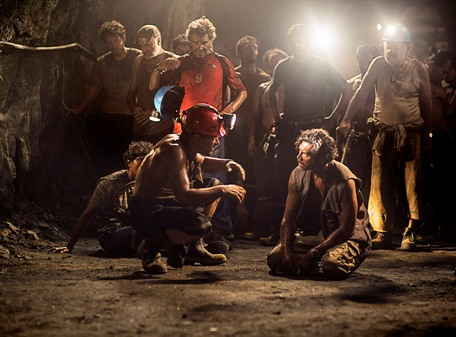 For the new feature film The 33, now in theaters, acclaimed Cinematographer Checco Varese ASC decided early on that it was important to re-create the shot just the way viewers saw it in news reports worldwide. He just wasn't sure how.
So Varese did what he typically does when he encounters a filmmaking hitch in need of a solution. He turned to Michael and Babak Mansouri at Radiant Images, a Los Angeles-based rental house and hub of digital cinema innovation.
Within days, he said, the Mansouri brothers had identified the right mini camera for the shot and created a customized solution to manually control the camera to mimic the organic look and the crude camera movements in the original footage.
"That's the brilliance of Michael and Babak and their team at Radiant, that ability to listen and understand and then come up with the most crazy, brilliant piece of equipment," Varese said. "They truly understand filmmakers and the filmmaking process and that's key."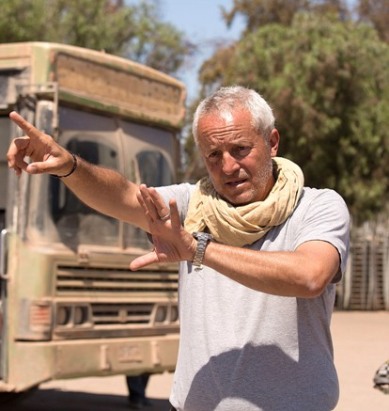 The 33, released by Warner Bros., stars Antonio Banderas, Juliette Binoche and Lou Diamond Phillips and is directed by Patricia Riggen. The film provides a never-before-seen look at what happened deep inside that mine and chronicles the disaster, the heroic efforts to reach the miners, and the subsequent successful rescue of all 33 men. The miners were trapped more than 200 stories underground following the collapse of the San Jose copper and gold mine in northern Chile. The ordeal marks the longest underground survival story in history.
Riggen and Varese, who are married, shot The 33 in real working mines in Colombia and Chile over 60 days at the beginning of 2014. In Colombia, they filmed more than two miles inside a mountain, said Varese, who was born in Peru and is considered one of Latin America's leading cinematographers.
In 2010, as the Chilean tragedy unfolded, searchers spent days drilling a series of small boreholes in hopes of finding any sign of life in the mine shaft behind the cave in. Finally, they pulled a drill back and found a piece of paper attached indicating that all the miners were alive. They soon sent a plumbing-type camera and microphone down a dark, narrow tube in the shaft, periscope style, to see and hear the trapped miners for the first time.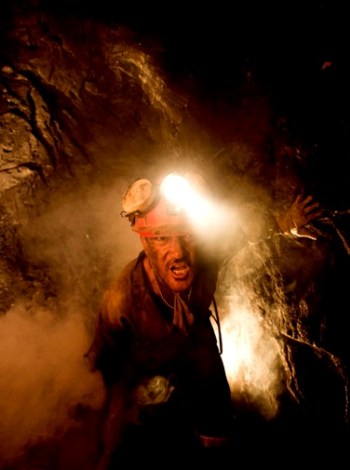 "We see the miners for the first time and we hear them talking," Varese said. "It's something you never forget about from this story and we needed to get it right."
A standard-sized cinema camera wasn't feasible as the tubing used for the shot was less than nine inches in diameter, he said. Varese also needed to figure out a way to pan left and right and tilt the camera in a similar fashion when it emerged from the tubing at the bottom.
"I was in Colombia and I called up Michael (Mansouri, VP at Radiant) and said, 'Michael, how do I do this?' " Varese recalled.
Radiant Images has a reputation among creative filmmakers as a go-to rental house for mini-camera technology, which continues to revolutionize cinematography. Radiant built SI-2K rigs for Danny Boyle's 127 Hours and also is the creator of the Novo, the world's smallest digital cinema camera and recipient of the MARIO Award for innovation at NAB, and its sister Novo 2K, which starred as the POV camera in End of Watch, as well as the new Novo 4K.
For Varese, Michael Mansouri and his team of technicians at Radiant quickly identified its powerful, compact SI-2K Nano, which is one-third the size of the original SI-2K Mini Sensor, as the right camera for the job. Together with C-mount lenses, the SI-2K Nano was best suited to handle the low-light conditions and the look Varese sought.
Meanwhile, his brother Babak went to work on developing solutions for lowering and controlling the camera movement.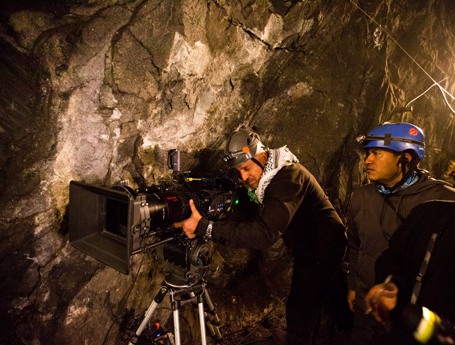 Within days, Babak Mansouri was on a flight to Colombia with a fishing rod-type device featuring a pulley system for lowering the camera through a 12-foot tube while enabling the camera operator to manually pan and tilt once the camera cleared the opening at the bottom.
"It was an amazing gadget, just what I needed," Varese said. "That's why they are filmmakers, not just a rental house."
Babak Mansouri spent four days on the set in Colombia. He provided the camera team with training on the SI-2K Nano camera system as well as his customized probe rig. While on location and getting a closer look at the challenge at hand, Mansouri also devised a few donut spacers with dense foam to further enhance accuracy and smoother camera movement.
Babak Mansouri said he appreciated the opportunity to assist on The 33, "The SI-2K Nano brought a language to articulate actual events but in the end, Checco's vision made it all come together," said Mansouri, pointing to Varese's elegant lighting technique to illuminate the face of the film's star, Antonio Banderas, with a single mining headlamp.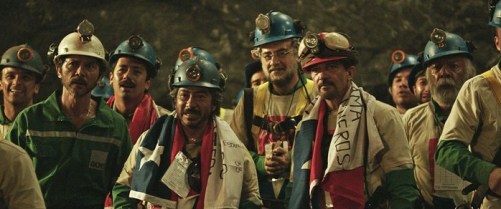 Varese has worked with Radiant on a number of projects, most recently on the pilot for the TV drama The Occult. For that, Radiant rigged the Novo 2K to extend from the chest of an actor for a POV shot of his face as he is running.
In addition to specific project work and equipment rentals, Varese said he relies on Radiant to help him sort through the clutter of new camera technologies and technical advancement to know what is best suited for his needs. For example, Radiant's camera comparison video, which compares 16 of the most widely used digital cinema cameras, has proven invaluable to him and other filmmakers.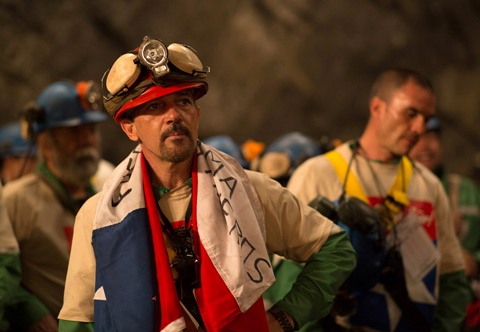 "I don't have time to go to trade shows, I'm just too busy," Varese said. "So someone like me needs to have somebody who sifts through all this and says, "Hey, this is the perfect camera." Radiant has that ability. They figure out what's best."
He continued. "There's a lot of information out there that's not necessarily inaccurate, but it's not entirely helpful either. You need people who dedicate their lives to researching and studying all this because I don't have time. That's why what Radiant does is so important to filmmakers."
Varese said the mentality at Radiant Images is almost a throwback to a prior era of filmmaking when it was more common for a traditional rental house to build custom gear, lenses and housings.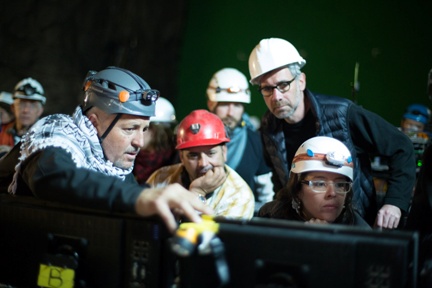 "Nowadays, rental houses are different," he said. "Anybody can open one and rent out gear, but the art of serving the cinematographer and the art of serving the project and the film, that art has been lost a little bit. But not at Radiant."
Radiant Images has an on-site engineer, Sinclair Fleming, and rapid prototype capabilities that enable ideas to move quickly from concept to movie set.
Varese said whenever he gets on the phone with Michael or Babak Mansouri or visits the company's Los Angeles facility, he feels like he's among kindred spirits.
"Just as they proved again on The 33," he said. "They are filmmakers first and foremost – and that makes all the difference."
For more information on Radiant Images, visit online at www.radiantimages.com. Find the company on Facebook, Instagram and Twitter.
# # #
Top Image: (Front center) Antonio Banderas as Mario Sepúlveda and Lou Diamond Phillips as Luis Urzua in Alcon Entertainment's true-life drama "The 33," a Warner Bros. Pictures Release. Photo by Beatrice Aguirre
Image #2: Checco Varese on the set of "The 33". Photo by Beatrice Aguirre
Image #3: Antonio Banderas as Mario Sepúlveda in Alcon Entertainment's true-life drama "The 33," a Warner Bros. Pictures Release. Photo by Douglas Kirkland
Image #4: Cinematographer Checco Varese on the set of "The 33".. Photo by Douglas Kirkland
Image #5: (Left, white helmet) Lou Diamond Phillips as Luis Urzua and (right, red helmet) Antonio Banderas as Mario Sepúlveda in Alcon Entertainment's true-life drama "The 33," a Warner Bros. Pictures Release. Photo courtesy of Warner Bros. Pictures
Image #6: Antonio Banderas as Mario Sepúlveda in Alcon Entertainment's true-life drama "The 33," a Warner Bros. Pictures Release. Photo by Beatrice Aguirre
Image #7: Director Patricia Riggen (right) with Cinematographer Checco Varese (right) on the set of Alcon Entertainment's true-life drama "THE 33," a Warner Bros. Pictures Release. Photo by Beatrice Aguirre