LA-based digital cinema innovator helps filmmakers achieve first-person, POV vision of acclaimed short film Random Stop

Radiant Images was fortunate to have the opportunity to play a part in the making of Random Stop, an award-winning short film based on the tragic real-life shooting of Sheriff's Deputy Kyle Dinkheller after a routine traffic stop.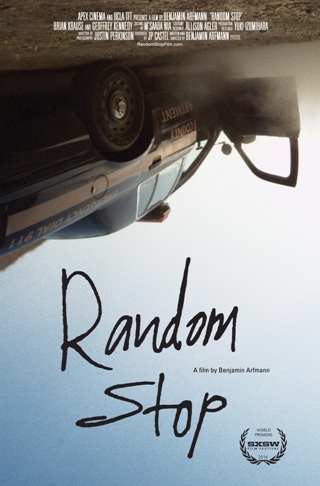 Our role was to help the filmmakers find the tools to achieve their vision of capturing the events of that fateful day entirely from the deputy's point of view, in real time. Random Stop would include a high-speed chase, live gunfire and a variety of special effects, all told through a first-person POV. A tall task indeed.
"The challenge was finding a cinema-quality camera that was lightweight and mobile enough to literally wear," Cinematographer Justin Perkinson recalled. "We also needed a cinematic lens option, one that approximated a human field-of-view and also allowed for some focus pulling."
Frustrated in their search for an appropriate camera system to meet their needs, Director Ben Arfmann, Producer JP Castel and Perkinson came to Radiant Images looking for a solution. Their story is detailed in a recent post at NoFilmSchool.
Here's how the filmmakers tell it in their excellent BTS video on the making of Random Stop:
After working with a 5D mounted to a motorcycle helmet, a GoPro, even the Epic, Perkinson said "we didn't really find something that worked perfectly for us, something that was in our price range, that was cinematic and that had some of the flexibilities that we were looking for to tell our story."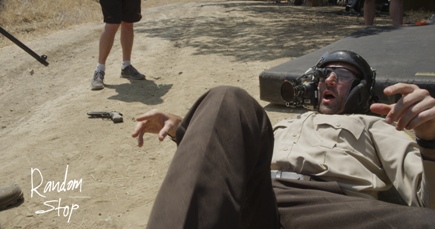 Enter Radiant Images.
"We had leads and we had ideas and we knew that this was possible, but we still didn't have our camera," he said. "That's when our producer, JP, had researched previously the End of Watch movie and knew that Radiant Images had helped them with their SI-2K Nano camera."
(As an aside, Radiant Images designed and created the pocket-sized Nano specifically for Director David Ayer and End of Watch, enabling many of the pulsating POV shots in the gritty police drama.)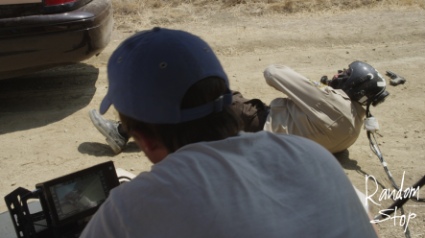 Random Stop's Perkinson continued, "Our full camera rig, or full technical rig, was the SI-2K Nano camera that was mounted on a custom helmet. Beneath that rig, my first step was to wear these military-grade Tac Eye goggles that would slot a screen over my eye so that I could see what it is that I was filming. Pretty crude, Standard def, like 4:3 almost framing, but I could get a sense of what it was that I was framing. That was connected to a backpack brain of the camera, basically kind of a computer that we had rigged with Radiant's help into a hard plastic framing."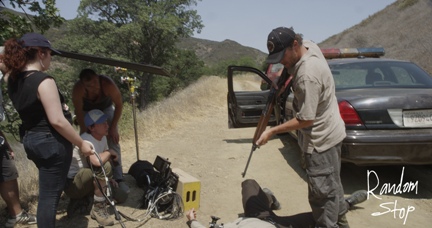 An article in American Cinematographer details the technical aspects of Random Stop:
The SI-2K Nano was outfitted with a Kowa 5mm F1.8 lens. Footage was recorded in 12-bit raw 2K to a Cinedeck Extreme HD, which was most often bolted into a heavy-duty plastic backpack frame that Perkinson wore. For shots featuring a nearly 360- degree field-of-view, the Cinedeck was tethered to the Nano with a long cable wrangled by 2nd AC Shamsi Luna. Images were monitored via a Teradek Bolt wireless system. "Everything was monitored in 720p 24 fps out of the Blackmagic Design SDI card from the Cinedeck" Perkinson said.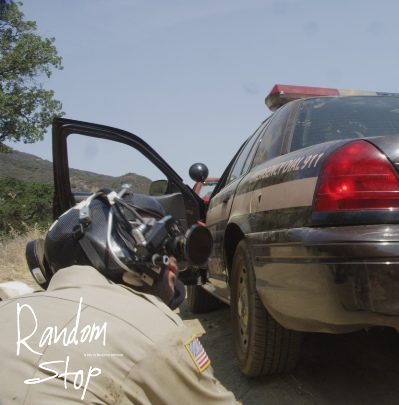 In order to pull focus, Perkinson and 1st AC Michael Pyrz mounted a Cmotion Cvolution C3 wireless follow-focus system to the Kowa lens, which was rigged to the customized helmet cam.
In the end, the filmmakers found the solutions they needed to create a truly top-notch film. Watch it at http://vimeo.com/90068717.
We appreciated the way Director Arfmann summed it up:
"It was really when we started working with Radiant and the people there that the film found a direction."
About Radiant Images
Radiant Images provides innovative 2D and 3D digital cinema solutions, support and leading-edge, high-end cameras and equipment to the film and entertainment industry worldwide. The company offers creative, flexible and affordable solutions for any sized project. For more information, visit online at www.radiantimages.com or call 323-737-1314. Find Radiant Images on Facebook and Twitter.
# # #
Random Stop - Behind the Scenes from CASTEL on Vimeo.